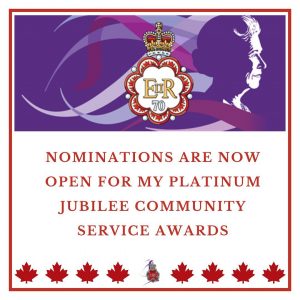 2022 marks the first time Canadians can celebrate the Platinum Jubilee of our Sovereign, Her Majesty Queen Elizabeth II. This historic milestone invites us to pay tribute to Her Majesty's lifetime of committed service to Canada, the Commonwealth, and its citizens.  

As we honour the Queen, I would like to recognize 25 exceptional residents of Oakville North-Burlington who have given of themselves in service to our community by awarding them a Platinum Jubilee Community Service pin. These special pins will be given to honour community members who have shown a commitment to making the lives of their neighbors better.

Nominees must be residents of Oakville North-Burlington who have made a meaningful impact through their work or volunteerism. This is an opportunity to recognize someone who's made a positive difference, big or small, in the arts, science, innovation, community service, healthcare, education, entrepreneurship, inclusion and/or sport.

Do you know someone who has made a significant impact in our community? If so, consider nominating them for this once in a lifetime recognition!  Winners will be celebrated and receive their pin at a special event in August.  

Nominations are open until July 8, 2022.
Click here to fill out the nomination form  https://docs.google.com/forms/d/e/1FAIpQLSc4y1dzY1sUIWBZXK6qMiNxM574AhApZxZipY6BMgk3taKiWA/viewform?fbclid=IwAR38EDk7l9ETf9UU5DlYGeOwad5kP6xZ8jCw0nTJu40ThS01sXJ-39fBmYc